GET CONNECTED


STAY CONNECTED



Here at the Y we try to communicate the best we can. Whether is weather related announcements or last minute cancellations. We have MANY avenues of communication. Please check out what we offer to keep you informed at all times.
MOBILE TEXT ALERTS
Receive text message announcements and cancellations from your Aberdeen Family Y! Sign up is easy. Plus, you get to pick which department and programs you want to receive alerts from. Follow the steps below:
• Visit
mobile-text-alerts.com/AberdeenFamilyY
• Fill out the online form. Be sure to select which programs you would like to receive messages from.
• Click "Receive Alerts" and you are done! Questions? Visit
www.aberdeenymca.org/how_tos.html
NOTE: Check your wireless provider for any text messages fees they may charge. Message & Data Rates may apply. You may disable or make changes to this services by emailing
awolf@aberdeenymca.org
.
E-NEWSLETTER
Our FREE E-Newsletters will keep you updated on all the happenings here at the Y. In addition, you can read about member success stories that will give you the warm and fuzzies. To subscribe, visit: our website:
www.aberdeenymca.org
and click CONNECT on the left hand column. You can sign up for our monthly Y e-News, Y Childcare e-News, and Weather Announcements.
If you have a story or testimonial you would like to share in a newsletter, please email Ashley at
awolf@aberdeenymca.org
.
FACEBOOK
Get up to date information along with some funnies posted daily. We use our Facebook to develop online communities as well as an informational tool to get you what you need. Like us on Facebook TODAY! View our Facebook page, visit:
www.facebook.com/aberdeenymca
.
TWITTER
Like Twitter better? We do tweet too! We use our Twitter page to connect with our Y members. We also retweet lots of useful information that pertains to the Aberdeen community. Follow us @aberdeenymca or
www.twitter.com/aberdeenymca
.
FLICKR
Keep up with Y activities and other interesting daily happenings with our Flickr. Flickr is our photo management and sharing application. We show off our favorite photos to our community! View our Flickr page, visit:
www.flickr.com/aberdeenymca
.
USING QR CODES
At our Y, we love to save trees! Do you know how you can help? By using QR codes we've provided. QR code stands for "Quick Release" code. a machine-readable code consisting of an array of black and white squares, typically used for storing URLs or other information for reading by the camera on a smartphone. You WILL need a smartphone to access our QR codes.
1. Install a QR Code reader app. Download the app on Google Play for Androids, BlackBerry AppWorld, App Store (iOS/iPhone) or Windows Phone Marketplace. Most QR scanning apps are free. Any app that can read barcodes should be able to process QR codes.
2. Run the app. Your screen will switch to a camera display. Point your camera to a QR Code. Hold your camera steady so that the QR code comes into focus. Try to fill the frame as much as possible with the code to speed up the reading process.
3. Access the content. Depending on the QR code, you may be directed to a webpage, receive an SMS, or taken to your phone's marketplace to download an app.
We use QR codes for different reasons at the Y. Our most popular reason is the access to our Group Fitness and Aquatics Center schedules. These QR codes will always be up to date. To see these schedules, use the QR codes below.
HAVE ADDITIONAL QUESTIONS?
We are always here to help! If you have any questions about these forms of communication, please do not hesitate to call Ashley at 605.225.4910 or email her at
awolf@aberdeenymca.org
. We want to make sure that you stay connected by getting connected!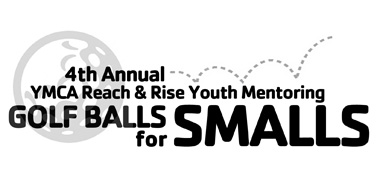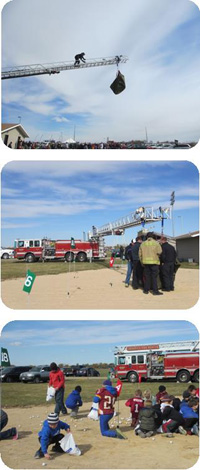 We are gearing up for our 4th Annual Golf Balls for Smalls Event on Saturday, October 4th at the Gypsy Day Football Game. Our goal is to sell tickets for 4,000 numbered golf balls to help raise funds for our Reach and Rise Youth Mentoring program. The Aberdeen Fire Department will use a fire truck and drop these balls onto a mock golf course. Prizes of $50 will be awarded for the ball closest to each of the flags #1-17, and a $1000 grand prize will be awarded for the ball closest to the #18 flag. You can purchase your tickets at the Y, Huff Construction, Ken's and Kessler's.
FALL BACK INTO SHAPE

The end of summer is upon us which means it's time to "Fall Back Into Shape". Now that the kids are back to school and beaches and barbecues are over, fitness can be our focus!
The goal of this challenge is to earn 2,500 points during the month of September. You will earn 100 points for every ActivTrax workout completed, 1 point for every minute of cardio completed, and 500 points for every pound lost.
Everyone enrolled in ActivTrax are already enrolled into the challenge. Just workout, submit exercise into ActivTrax and watch your points total!
If you are not currently enrolled into ActivTrax, please see a Wellness Coach and we can get you going in about 15 minutes.
The Challenge has already begun and will run until September 30. If you reach your goal of 2,500 points, you will receive 25% discount on a specialty class of your choice!
WORTH A
THOUSAND WORDS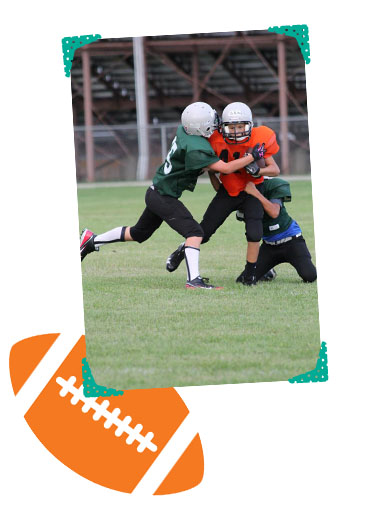 Our 2014 Youth Tackle Football season is off to a great start! We have over 240 kids participating in our program this year. Our program teaches fundamental skills, football strategies, athletic agilities, with an emphasis on making it FUN! Pictured above is Gray Imbery and Carstyn Vetter. Photo couresty of Angie Vetter.