ENSURING A
BRIGHTER FUTURE
YOUTH DEVELOPMENT CENTER



No childcare facility in Aberdeen has ever been constructed for childcare. Each one has been retro-fitted to be used for this purpose. After many years of study and research, our Board of Directors is leading the effort to provide additional quality, safe, and educational childcare for the Aberdeen area. The Aberdeen Family YMCA is the largest childcare provider in Aberdeen and has two primary programs that meet the early education needs of the youth we serve: Learning Tree and After the Bell. Youth development is a key mission of the Aberdeen Family YMCA and these programs are housed in outdated, ill-situated facilities. In addition, a robust economy in Aberdeen has created strong demand for employees, which in turn has and will continue to lead to increased demand for quality childcare.

The need for updated facilities and increased demand for childcare lead us to the conclusion that the Aberdeen area needs a new Youth Development Center (YDC). The Y engaged the services of a consultant who conducted a feasibility study of the need for childcare in Aberdeen. The resulting report indicated that the project was viable and that the money necessary to build and furnish the $4,000,000 facility could be raised. The new facility will provide state of the art security, educational tools, programming flexibility, and safety and will expand our outreach from 104 licensed children in daycare to 185; and after school care from 90 to 140 children. To learn more, CLICK HERE.


TRX: MAKE YOUR BODY
YOUR MACHINE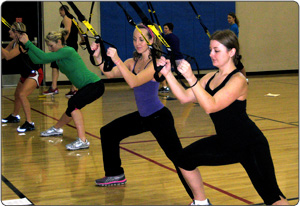 TRX® is the creator of the TRX Suspension Trainer and the TRX Rip Trainer. Both innovative exercise tools help you build lean muscle, boost your metabolism, tighten your core, and increase endurance. Born in the Navy SEALs, Suspension Training bodyweight exercise develops strength, balance, flexibility, and core stability simultaneously. It requires the use of the TRX® Suspension Trainer, a highly portable performance training tool that leverages gravity and the user's body weight to enable hundreds of exercises for every fitness goal. You are able to get a fast, effective, total body workout that benefits people of ALL fitness levels (pro-athletes to seniors).
For more details on class offerings,
CLICK HERE
.

SUMMER FUN
FOR EVERYONE
THE LEARNING TREE has a caring, knowledgeable and long-term staff that will care for your child from 4 weeks to 6 years old. Program benefits include: weekly swimming and gymnasium time for preschool children ages 3 to 5 years old. Planned activities for all ages. Children grow with us!

SUMMER SAFARI is for children that will be entering Kindergarten or 1st grades in the Fall. This program takes place in the Learning Tree building. The goal of this program is to have an avalanche of adventures with friends. At the end of each day children are guaranteed to be exhausted!

SUMMER UPROAR is for children entering 1st through 6th grades. Children will choose from a variety of daily activities designed to provide a positive learning and recreational experience. Make this a summer to remember!

To inquire about our summer childcare options, please call (605) 225-7113.

For MANY MORE summer opportunities check out our Summer Guide, CLICK HERE.



HIGHLIGHTS FROM
GROUP FITNESS
AEROBATHON THANK YOU
Our 22nd Annual Aerobathon was a huge hit on Monday, Feb. 20! We would like to extend a HUGE THANK YOU to all of our participants, sponsors (Avera, Revive Day Spa and Max & Erma's) and volunteers who made this event a success! Also, a big thanks to our Aerobathon committee: Terrill Meier, Lara Nelson and Julie Victor. They all volunteered a lot of time to organize and implement this event. We raised $2,809 and roughly 60 participants came to take part in the festivities. The total includes the Max & Erma's proceed that was held on Feb. 16. The proceed brought in $400. We surpassed our goal of $2,500! This money will be used towards items needed for group fitness programs.
CHECK OUT SOME PHOTOS OF THE AEROBATHON!
OUR NEWEST ZUMBA INSTRUCTOR ADDITIONS!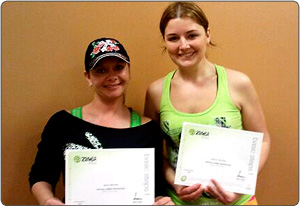 Lara Nelson & Katie Farley (pictured left to right) recently attended Zumba Basic 1 training in Sioux Falls, SD. Look for Lara & Katie to begin teaching Zumba at our Y in March!